Although we may still be having some chilly days, make no mistake that spring is on the way! There is still plenty of time to make your Dallas outdoor living and spaces as functional as your interior spaces for great entertainment experiences for you and your guests, a little downtime for relaxing, and to add some additional value to your property! Here are some top tips to fully optimize your backyard, or side patio's true potential! You'll soon harness some of the hottest warm weather design trends from the top Dallas Landscaping design team at Keane Landscaping.
Spring Cleanup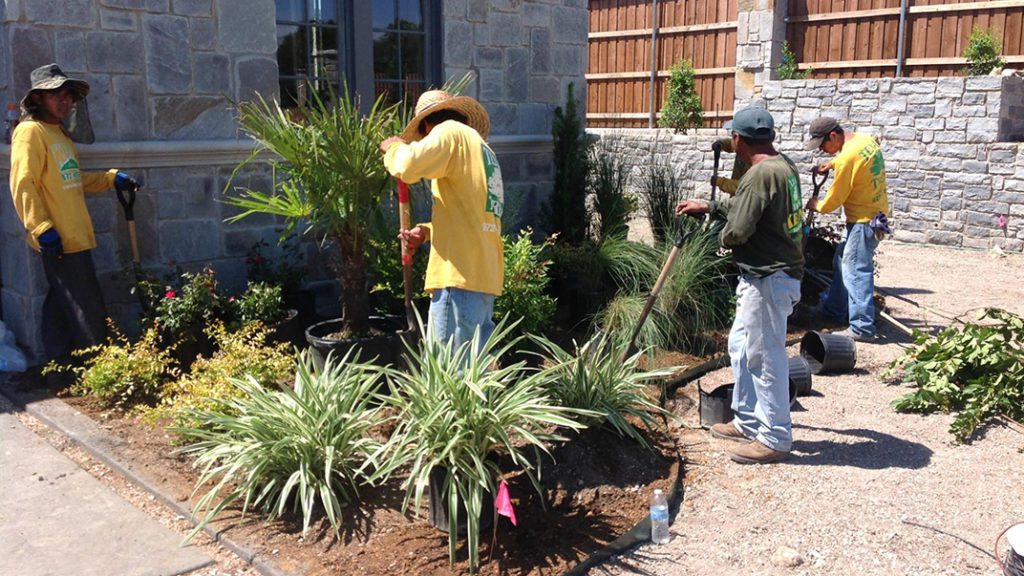 First of all, for better outdoor living in Dallas, consider Dallas property restoration services from Keane Landscaping. Our clean-up crew is the top choice for Dallas power washing and Dallas Lawn Maintenance. Our team will also happily provide Dallas gutter cleanout service, and we are the go-to for Dallas landscape installation to make your hardscape features stand out and look great this spring.
Take Inventory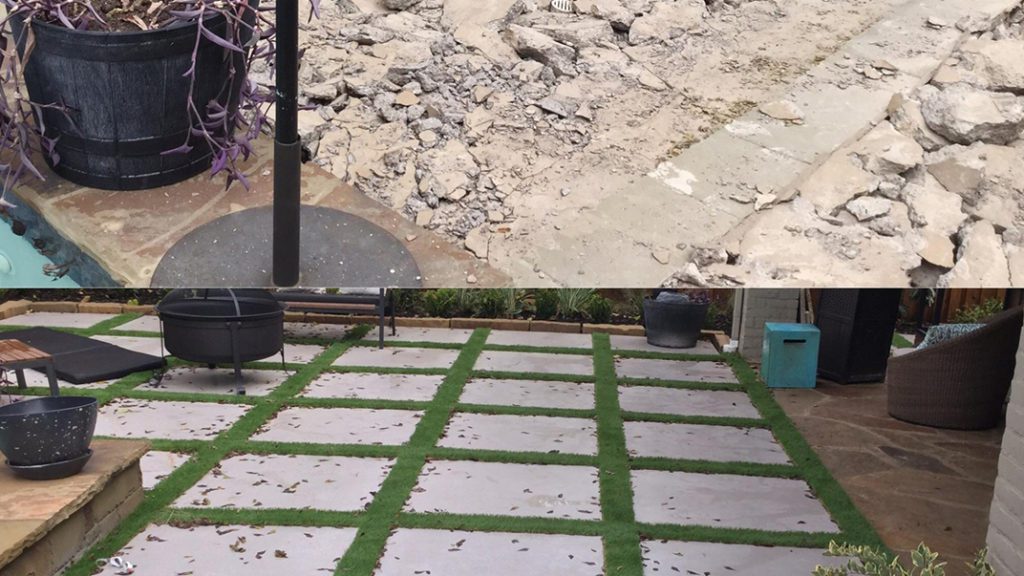 Before adding any additional decorative touches for outdoor living, begin to take inventory of anything that might call for repairs or hardscape items that could be replaced. Keane Landscaping is tops when it comes to Dallas Arbor repair and Dallas landscape construction. Our experts are also Dallas's number one choice for Dallas masonry and Dallas woodwork so no matter the repair or desired hardscape installation, we've got you covered this spring!
Outdoor Rooms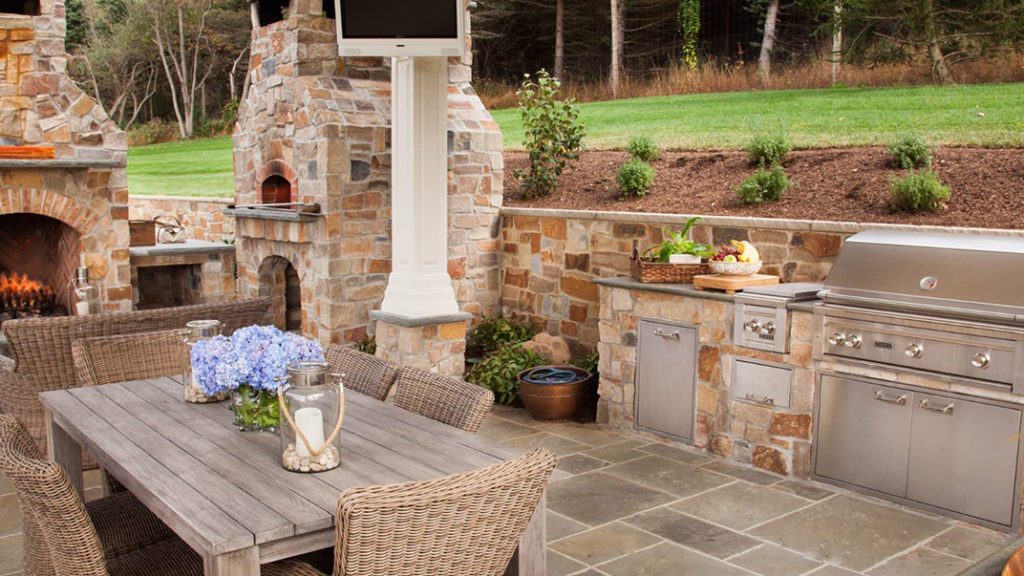 Frank Lloyd Wright believed in designing beautiful structures that were in harmony not only with humanity but with the environment as well, a design philosophy he referred to as organic architecture. This design philosophy guides many landscape designers today and has become increasingly popular within the past few years as Wright was a man ahead of his time.  Home-owners and many business owners in Dallas alike wish to bring the same harmonious feel to their Dallas outdoor living spaces. A quick and inexpensive way to achieve this is by adding some stylish furniture, bringing in some beautiful floral arrangements, framing your sitting areas with chic mildew- & water-resistant outdoor curtains, anchoring your stylish patio furniture with trendy outdoor rugs, and filling tall or large planters with a beautiful arrangement of ornamental grasses that create a beautiful illusion of a walled space. This provides an intimate seating area that warms up the space making it feel inviting for you and your guests.
Space Illusion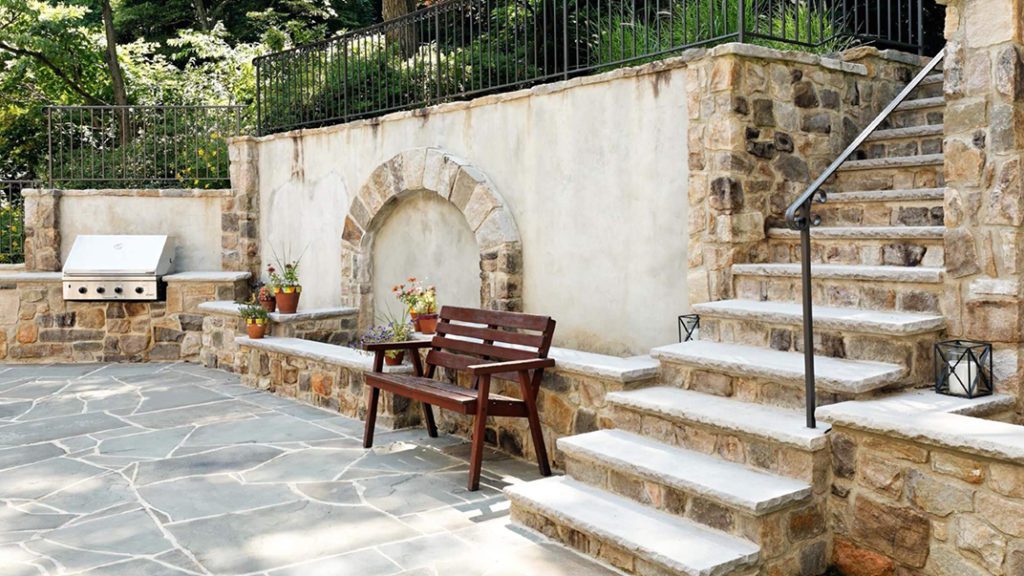 Another great way to create the illusion of more defined outdoor living spaces is to add some fencing. Fencing options can vary and be quite functional if you contact the right Dallas fence installation company. Natural fencing is also an attractive way to create barriers between spaces and looks great too! Who wouldn't want to see a lush green wall of bamboo instead of a dull blank space on their patio?
Covered Deck or Patio?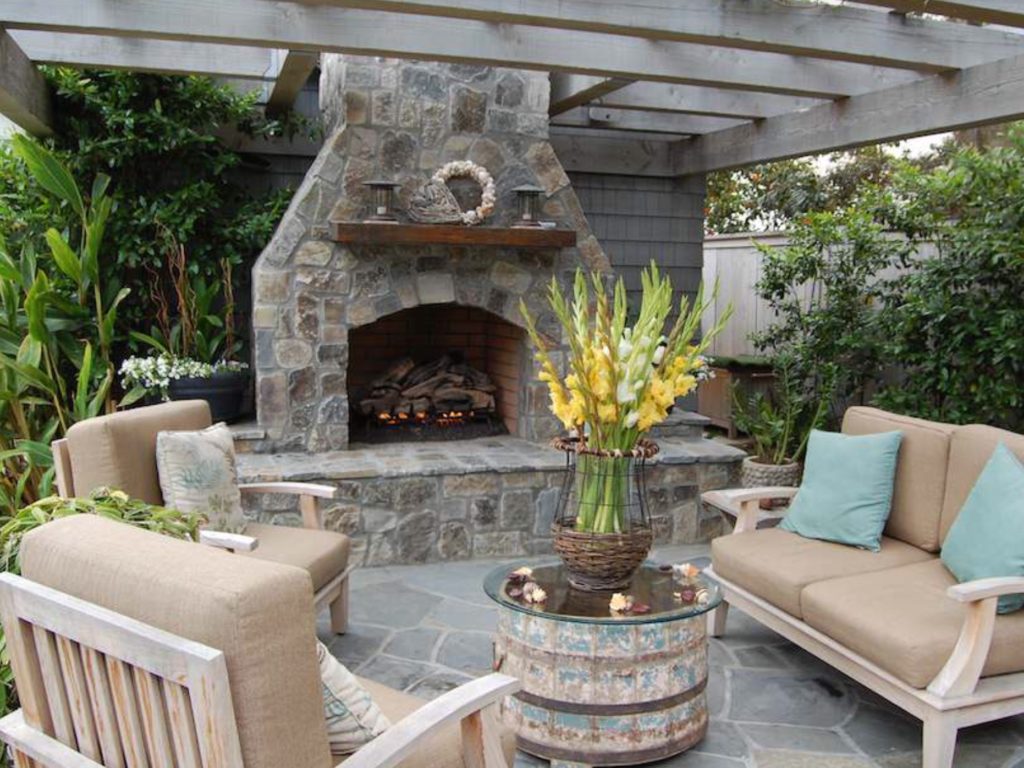 The addition of untreated, raw wood-planks to the ceiling adds warmth as well as a few mounted wall sconces for a bit of mood lighting. Another idea that might welcome use of your outdoor space is to add one or two large daybed pieces, positioning nice cabanas overhead to provide some much-needed shade. If your space is a little tight, add a cool rope hammock and toss a few pretty pillows and throws for a little decorative touch. If you don't have a covered deck or patio, contact your local Dallas Arbor Installation experts at Keane Landscaping.
Innovative Fabrics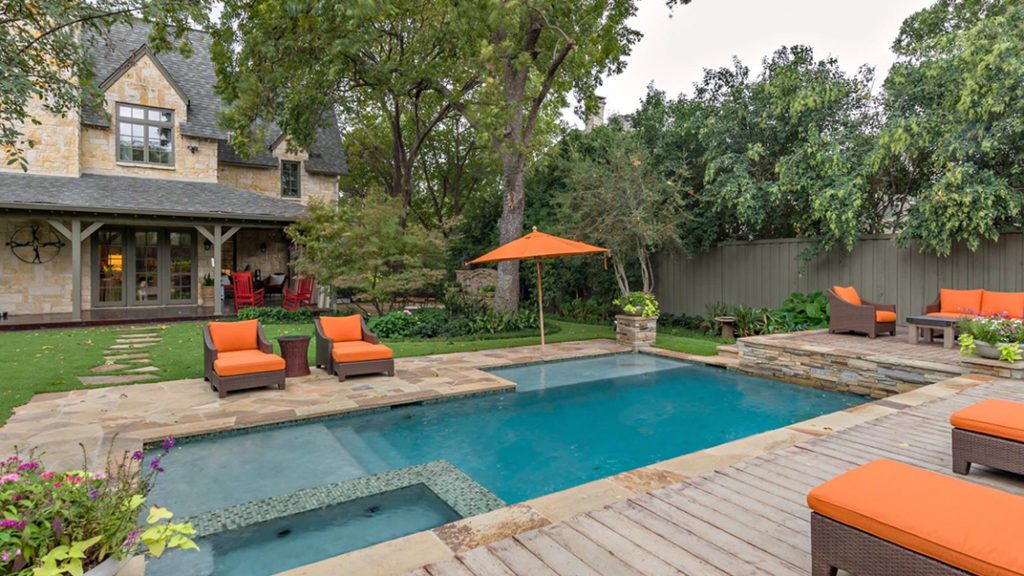 There are so many choices when it comes to patio furniture. From polyester blends and terrycloth to nice indoor/outdoor wovens, you can quickly transform your outdoor patio furniture into stylish furniture that has the chic aesthetic of indoor furniture. If investing in fabrics isn't the route you'd like to go with, there are special fabric sprays that can be applied to create a functional moisture-repelling barrier on existing furniture surfaces.
Alternative Flooring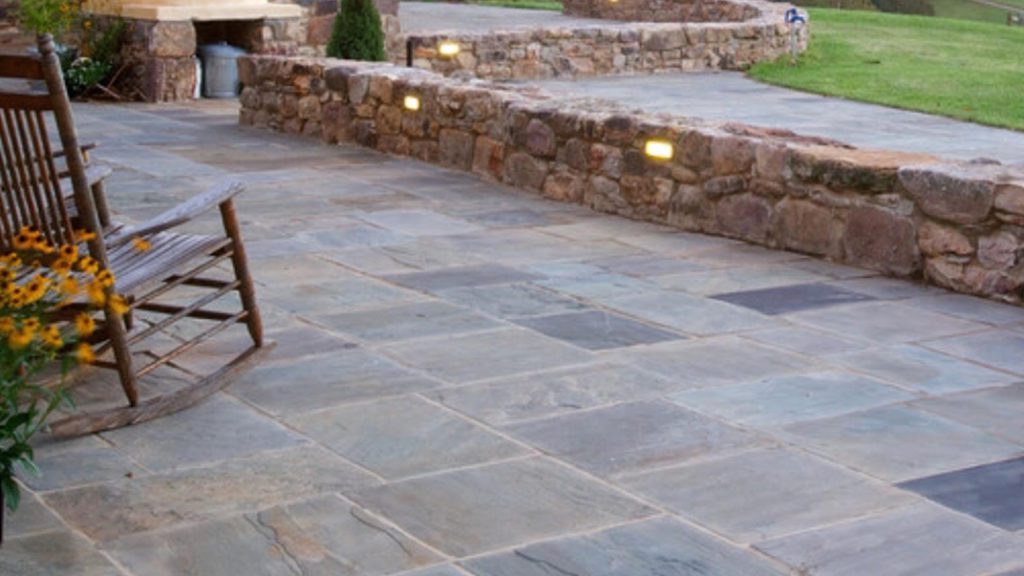 An excellent outdoor rug can anchor your space if you're trying to define a specific area and its function. Because of this instant space enhancer, outdoor rugs have been a staple for exterior design concepts for several decades. This a cost-effective solution, but if you're looking into revamping your space, then custom budget-friendly flooring can also do the trick and make an even stronger design statement. Consider materials like durable porcelain, beautifully stained beechwood deck tiles, or natural stone.  These are quick to install, affordable and high in quality. Our team is well versed in all Dallas Landscape Design, and we'd be happy to help you select the right flooring choices!
Bold Lighting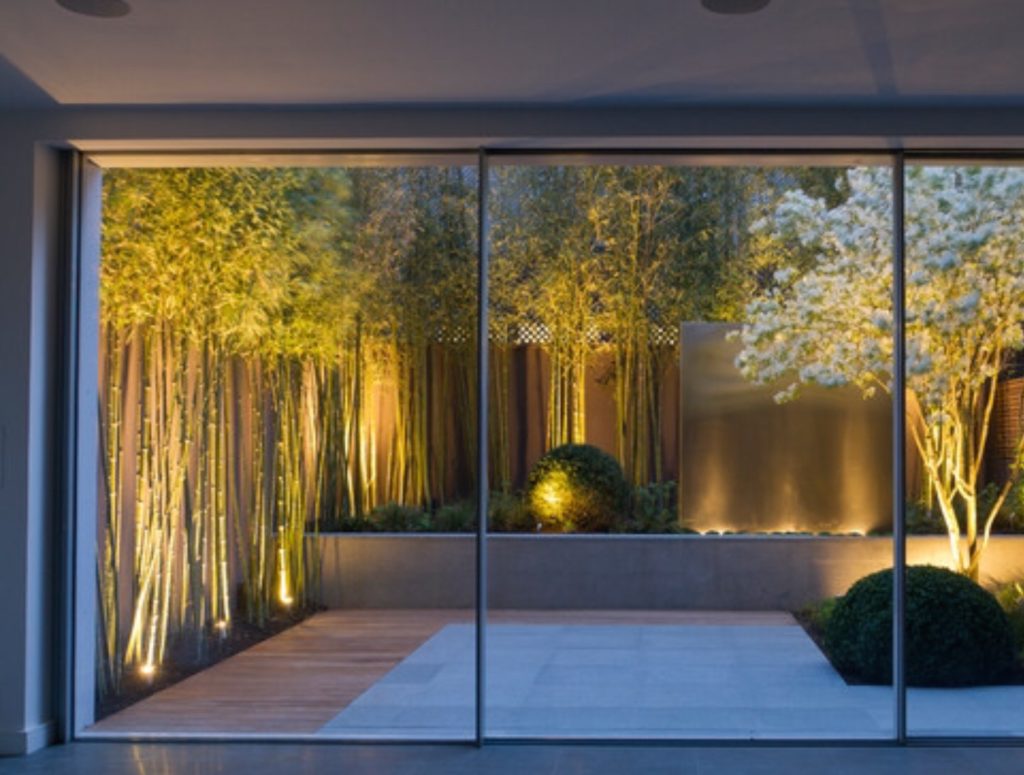 Looking to create a more dramatic look? Another great way to enhance your outdoor setting is to incorporate professionally installed outdoor lighting.  This is an exceptionally great idea if you tend to spend a lot of time outside in the evenings and long after the sun sets. The landscape of your property will look beautiful when a winning combination of natural moonlight illuminates it, stars overhead, and strategically and professionally installed landscape lighting. Our team of lighting professionals can help you decide on the right Dallas landscape lighting solutions for your home or business. One of the coolest things about custom outdoor lighting solutions is that any hue of bold and fun colors can be cast across your landscape to create some additional visual interest. Using a nice mix of lighting accents, such as string lights, LED walkway lighting,  deck lights, and uplighting will surely give your yard a gorgeous evening glow.
Vertical Gardens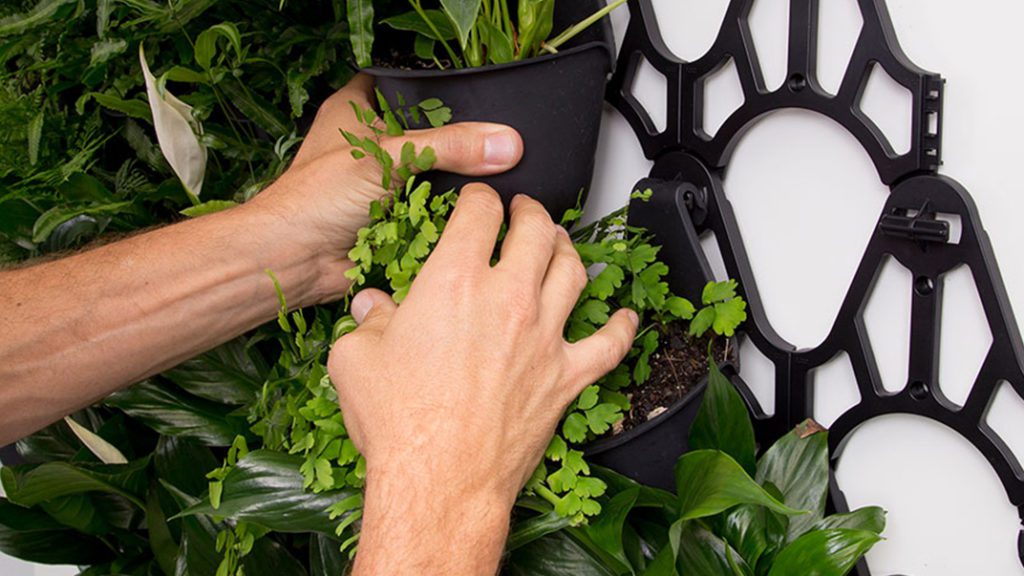 Vertical gardens are one of the hottest trends right now and not only do they provide beauty to any space, but they also extend an opportunity for even the smallest of spaces to become a cook's dream! Vertical gardening helps to maximize available space and allows everyone to grow their herbs and veggies at home! With a little help from the experts at Keane Landscaping, you can add a vertical garden to a variety of structures like arches, pergolas, and arbors for a stylish touch.
Maintenance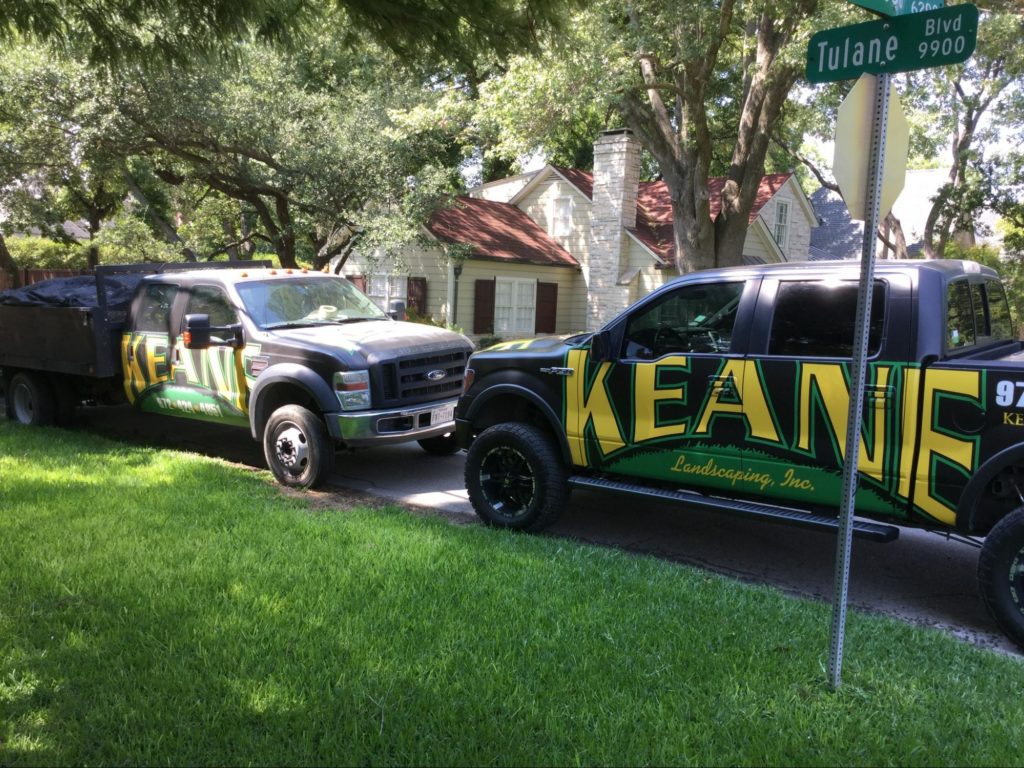 Once you've had any and all repairs and landscape installation completed, you'll want to maintain your lovely landscape by scheduling routine Dallas lawn care, and schedule quarterly Dallas landscape installation services to keep your investments looking beautiful all year long! Give the Keane team a call today for your FREE ESTIMATE!  (972)-424-4851